South Africa Is Not Collapsing Despite Violent Looting In Two Provinces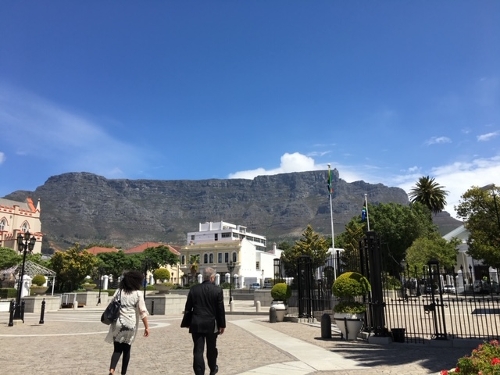 In a recent speech, President Ramaphosa sought to calm the situation as looters raged throughout numerous locales in an apparent protest against the jailing of fomer President Zuma. While the looting is a serious problem, causing the call-out of the Army and a meeting of all political party heads to develop a unified repsonse, the sensational headlines that claim South Africa is collapsing are inaccurate.
South Africa is in crisis, and all such crises CAN lead to an unraveling, but the forces of civil unity appear to have the upper hand overall, at least for now. Troops have been called out in Gauteng and KwaZulu-Natal provinces, with the latter being Zuma's homeland. But the looters can hardly be said to be legitimately "protesting" and many doubt this is more than an opportunistic event than an actual public outpouring of support for the former President.
Perhaps real blame lies with Economic Freedom Fighters Party head Julius Malema, a fireband radical neocommunist agitator who has threatened genocide against whites and the rich. Malema's party has promised to "join" the looters if the Army was called out of barracks. The EFF have been working hard to destabilize South Africa and conduct their own revolution which would plunge the country into race war, not just whites against blacks, but all the racial identifies with one another, and the rich against the poor.
While it is too soon to see if the looters themselves were organized, as it is alleged, by payments from EFF backers to key agitators, it is certainly something that authorities will have to investigate.
Former President Jacob Zuma on 29 June 2021 became the first South African president since the end of white-minority rule in 1994 to receive a prison sentence. South Africa's Constitutional Court issued a 15-month sentence for contempt of court after Zuma defied an earlier court order to return and testify before the Zondo Commission.
On 7 July 2021, Zuma handed himself over to the police and was admitted to the Estcourt Correctional Centre in his home province of KwaZulu-Natal.
Zuma still has his backers, and some say this current dustup is really an internal power srruggle, but the former President was widely believed to be corrupt during his almost 9 years as President, from 2009 to 2018.
President Ramaphosa's speech, in which he urged calm, was widely panned but all parties save the EFF agreed to back his present measures and to do their part to calm their supporters. But with the army deployed, the looting continued.
KwaZulu-Natal premier Sihle Zikalala told the press on Tuesday morning, "Yesterday's events brought a lot of sadness. The number of people who have died in KwaZulu-Natal alone stands at 26. Many of them died from being trampled on during a stampede while people were looting items."
The total death toll stands at 32.
The looting and violence are mostly limited to Gauteng and KwaZulu-Natal.
"What we are witnessing now are opportunistic acts of criminality, with groups of people instigating chaos merely as a cover for looting and theft," South African President Cyril Ramaphosa said in a late-evening address on Monday.
Looting is bad, and it could get worse, it may be insitgated by the EFF and/or the Zuma wing of the ANC, as he challenges his sentencing, but South Africa isn't "collapsing" and most of its people are standing against the madness.